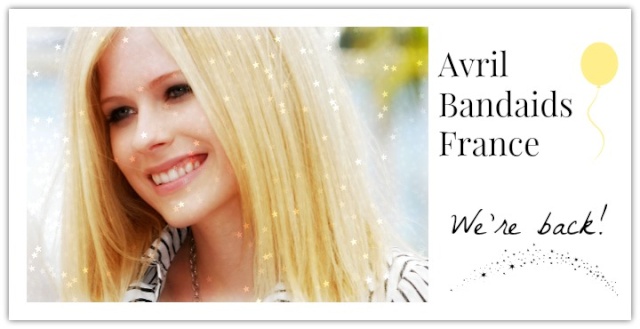 News about the website
The site has been offline for a week,but we're finally back. As you've perhaps noticed, the site often had  trouble. To solve this problem, we decided to change our web server. To offer you an even more efficient site, we've chosen a more powerful host server. The site should be much faster (loading UHQ pictures on the gallery now requiring only a few seconds, for example). We hope you'll enjoy the change!
Improving the site requires investments. To change our server, for example, we've spent several hundred dollars. As a consequence, we've made the choice to create a button on the site "donate", by clicking on it you will have the opportunity to donate to our community via the secure Paypal payment system. Your donations will help to pay the website hosting and exclusive photos. Thank you in advance, regardless of the amount, your help will be very important for us and we'll be very grateful.
News about Avril
Finally, back to the news concerning Avril ! Back in Los Angeles, Avril takes some rest but still participates in some events.
You can first of all see on the gallery HQ pictures of her return in Los Angeles. On 26th August, she participated in the latest program of "Chelsea Lately" where she sang with many personalities a parody of We Are The World. Some days ago, she was spotted at a club in Los Angeles to attend a comedy evening in All Def Comedy Live.
Also for our come back, we offer you some exclusive pictures: Avril was recently seen at the Little Restaurant and Château Marmont in Hollywood and the paparazzis were there for some pictures.
On the gallery:
Arriving at Los Angeles Airport- 20.08.14
Birthday of Avril's Best Friend Caryn Los Angeles 20.08.14
The Avril Lavigne tour- End Party 22.08.14
Chelsea Lately – Finale Episode Hollywood 26.08.14
The Little Door Restaurant, West Hollywood 26.08.14 [Exclusive HQ]
Steve Ferlazzo Birthday 28.08.14
Leaving the Chateau Marmont in Hollywood 28.08.14 [Exclusive HQ]
Video:
Chelsea Lately Final Episode – We Are The World parody